Red Rocks Park and Amphitheater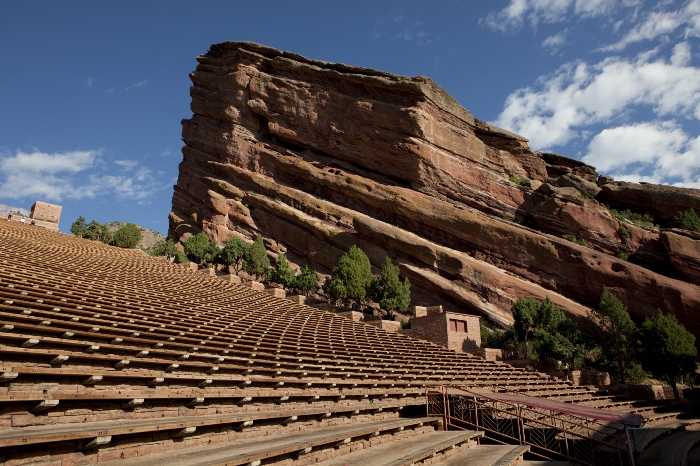 There is no better place to see the stars than at Red Rocks Amphitheater. Enjoy a concert in the open air atmosphere with the moon and the stars above. Over 100 performances light the stage in the season of concerts. In one of the nation's best music venues, the design of the Amphitheater with two, three hundred-foot monoliths (Ship Rock and Creation Rock), provide acoustic perfection for any performance.
Located just 15 minutes away, our Red Rocks Amphitheater hotel, the Comfort Suites Golden West is an easy and convenient drive to Red Rocks. Just take I-70 to U.S. 93, and you're there! When you book your tickets for a show at Red Rocks, don't forget to reserve your room at Comfort Suites Golden West on Evergreen Parkway.
Book now for your Red Rocks lodging discount!
A calendar with a complete list of current concerts can be seen on the Red Rocks website. Red Rocks™ and Red Rocks Amphitheater™ are the property of the City and County of Denver. Comfort Suites Golden West on Evergreen Parkway is in no way associated with Red Rocks Amphitheater™.
Date
Performer
 SEPTEMBER
2 - 7:30 PM
Jason Mraz
3 - 7:00 PM
Jason Isbell and the 400 Uni
5- 7:30 PM
Lyle Lovett and His Large Band
6- 7:15 PM
Gary Clark Jr
7 - 7:30 PM
Lake Street Dive
8 - 6:00 PM
STS9
9- 6:00 PM
STS9
9- 6:30 PM
O.A.R.
10- 7:00 PM
Mac DeMarco
12 - 7:30 PM
Rascal Flatts
13- 7:00 PM
NEEDTOBREATHE -
14 - 7:30 PM
The Revivalists
15 - 6:00 PM
Gov't Mule
16- 7:00 PM
Rise Against
16 - 4:30 PM
Trapfest ft. NGHTMRE b2b SLANDER
17 - 7:00 PM
Punch Brothers and Gillian Welch
19 - 7:00 PM
Nine Inch Nails
20 - 7:00 PM
Nine Inch Nails
22 - 7:30 PM
Little Big Town
22 - 7:00 PM
Trombone Shorty & Orleans Avenue + Galactic
23- 7:00 PM
Greensky Bluegrass
23- 7:00 AM & 6:00 PM
Miracle on the Rocks Sunrise Yoga & Stair Climb - 7:00 AM Greensky Bluegrass - 6:00 PM
23 - 7:30 PM
Beck
24- 7:30 PM
Beck
24. - 6:00 PM
The Miseducation of Lauryn Hill 20th Anniversary Tour
26 - 7:30 PM
Get the Led Out
27 - 6:00 PM
Big Gigantic
28- 6:00 PM
Big Gigantic
29- 4:15 PM & 6PM
Bonanno Concepts presents Mizuna - 4:15 PM Gregory Alan Isakov - 6:00